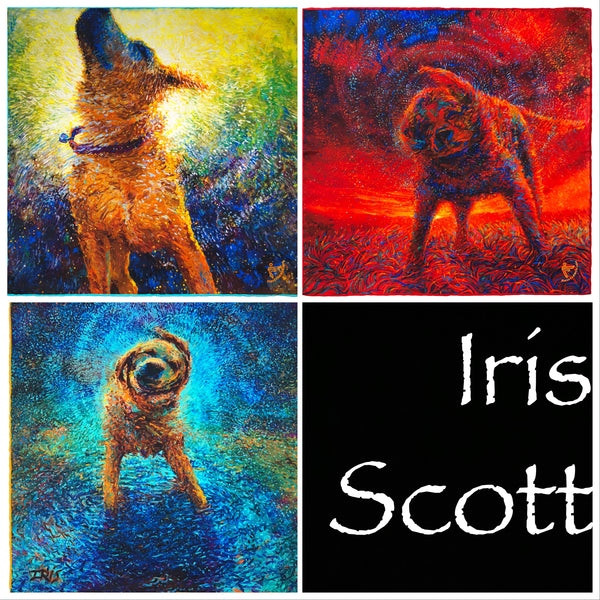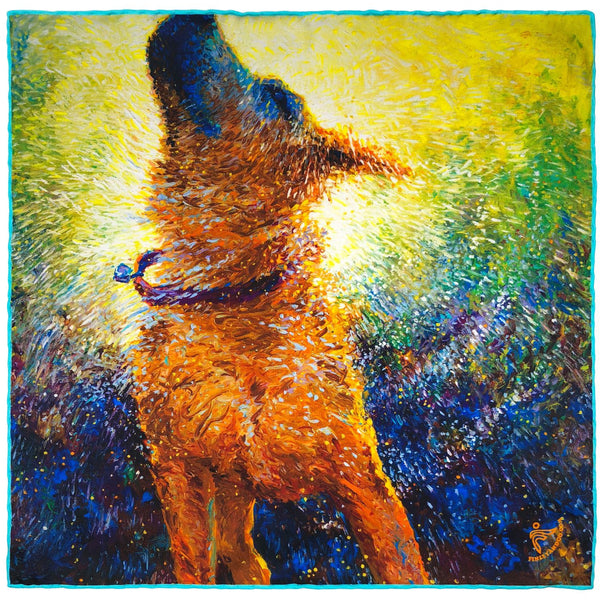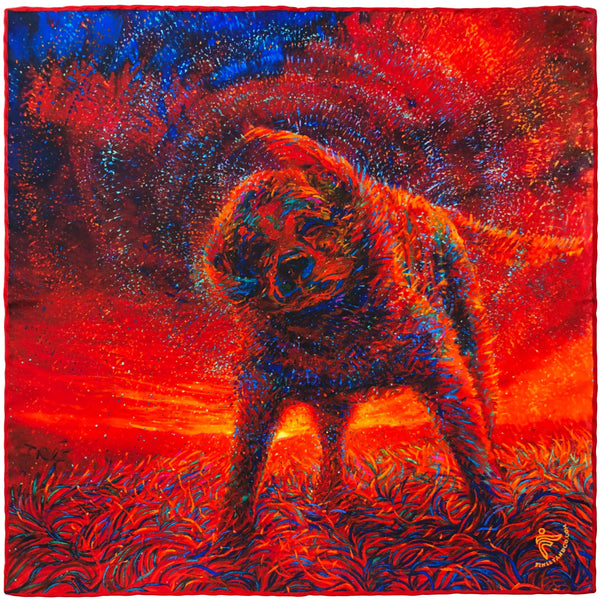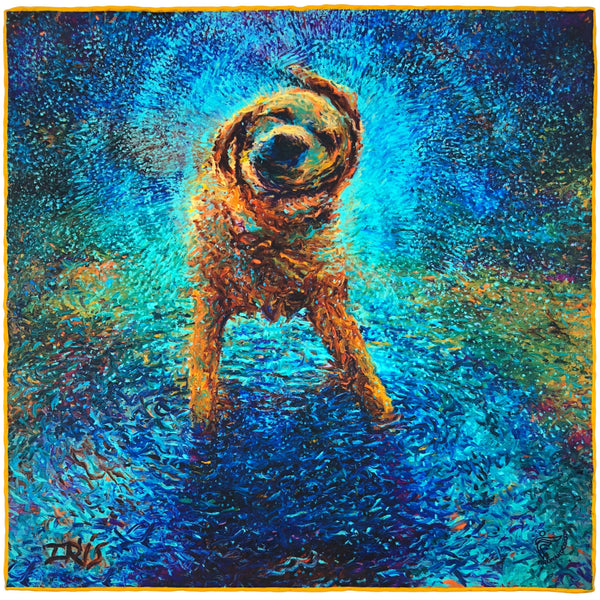 PocketSquareArt
Set of Three from the Iris Scott "Shakin' Dogs" Collection
--Where Fine Art and Fine Fashion Intersect--

"Shakin' Dogs" is a beautiful collection from Iris Scott. Iris never uses a brush to accomplish her presentations..she uses her fingers. She is a world renowned finger painting artist hailing from Brooklyn, NY and has graciously licensed three pieces from her "Shakin' Dogs" collection exclusively to Finley & Company. She happened upon finger painting while living in Taiwan during 2010. Iris chose not to clean her paint brushes one day because it would require pausing her work. Too engrossed in the present to put the painting on hold, she accidentally discovered the advantages of the technique literally at her fingertips. Today, she works with paint like a malleable, nearly clay-like medium, pushing it along the canvas in the thick, impressionistic smears that have become her trademark.

She is currently represented in four art prestigious art galleries in the United States of America:

Adelman Fine Art in San Diego, California
Horizon Fine Art in Jackson, Wyoming
Ugallery in San Francisco, California
Vickers Collection, Aspen and Vail, Colorado


The art has been transferred to a 10mm Habotai silk and has hand rolled and stitched edges and is 14 inches square.

Pocket squares are easy to use when repeating patterns are present throughout the product. The repeating patterns that emerge from the shaking canine, offer so much more that a plain, polka-dot, plaid or paisley pattern.


This collections includes:
"Shakin' Off the Blues" is a beautiful piece of artwork of Iris Scott.  
"Shakin' Off the Sunset" directly into your pocket makes this a "must have" piece.  The primary use of reds compliments almost any attire...business or casual.  Picture your black blazer, white dress shirt and "Shakin' Off the Sunset" as your only color statement.  Need we say more?                                                                

"Phoebe's Reign" is an elegant piece.  The colors used are warm and bold.  The  predominant use of yellows and the subtle uses of blues and greens combined    with the repeating patterns of the "shake" make this pocket square stand out.      Phoebes' tan coat will offer a number of ways to utilize this special square in  your wardrobe.  Did you notice her purple collar? 
Enjoy, please, this limited edition pocket square collection, exclusively from Finley & Company.
Specifications:
Limited Edition
Exclusively Licensed Artwork
15 x 15 Inches (38 cm x 38 cm) Square
100% Silk Twill
Hand rolled and stitched edges
Made in Italy